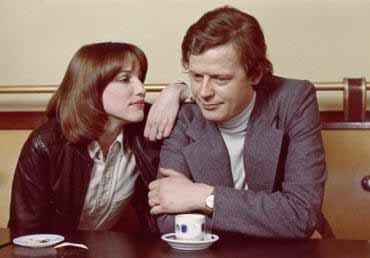 When my tax return appeared in the mailbox a few weeks back I decided to spend some of it on a bunch of films. I have waited for the re-issue of Eric Rohmer's films, in the way that Louis Malle and Jean Luc Godard have enjoyed. Not to be, or at least, not yet.
So I fired off an order to amazon.uk.
Voila
, nine days later, The Eric Rohmner Collection. Eight films and the usual extras (short films, trailers and interview with the director). Six films are from the Comedies and Proverbs series, including The Green Ray, Pauline at the Beach, Full Moon in Paris and more. We jumped right in
Love in the Afternoon
(
L'Amour L'Apres-midi
). What needs to be said? The film is a typically wry yet surprisingly passionate portrayal of the life of a recently married man. Frederic is a busy young entrepreneur, but he has, shall we say, a rich and vivid inner life. His musings are made real with the re-appearance of Chloe, a young woman Frederic knew before he married.
And there are those incidental pleasures that Rohmer's films offer. The cat and mouse game between what is said and what is meant; the weave of the everyday and the philosophical, the absence of histrionics behind the camera (or in the editing suite). And then there is Paris. The streets of (I think) St Germain de Pres, the cafes, the stlyish offices where the secretaries hammer at typewriters...Made in 1972, the film glows with a look that sums up the period. We suspect the hand of Yves St Laurent. The clothes, in particular those of Chloe, are stunning.
So while I continue to savour this one, I look forward to six or seven more over the coming months.